How We Help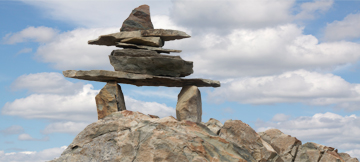 Advanced Benefits commits time and energy to understand the culture of your company. We partner with our clients to create customized forward-thinking benefits and tax effective compensation plans over the long term.
We provide creative benefit plans that are sensitive to the practices of your company. We develop on-going cost effective solutions for your human resources needs. We help you to not only attract and retain the best employees, but also to enhance the lives of those who make your company what it is today.
Inuksuks (in-ook-shooks) have dotted the northern landscape for hundreds, if not thousands, of years. They stand as directional markers on some of the harshest, most difficult terrain in the world. They are a necessity in an environment that does everything it can to throw a traveller off course.
Advanced Benefits understands this. We think of ourselves as "benefits" Inuksuks - giving direction and guidance to those with an idea of where they want and need to go. We serve to clarify the destination ahead, and in a harsh competitive environment, deal with the many obstacles that might keep you from your goal.
We provide maximum value from your benefits program, through an ongoing process, rather than a single event. We deliver timely and meaningful reporting, coupled with customized benefit communication programs to ensure you and your employees get the most value out of your plan.
Data without focus is meaningless and with this in mind, we chart the progress of your plan as measured by objectives that we help define and monitor. In short, we do more to ensure that you get the best possible return on investment.
With a solid understanding of your culture and a creative mix of fixed and flexible elements, including a delivery system that suits you best, we will build a program that meets your needs.